We had five "learning intentions" for participants in this presentation.
To gain an understanding of UDL
To understand why it is important that we understand and embrace UDL in our classrooms now as we are eager to meet the needs of increasingly diverse student populations, and as we need to make decisions about the types of technology we purchase and the pedagogy that drives it's use.
That UDL is

not

about the technology.
That UDL is a subtle shift in paradigm that is having a profound impact on learners
That creating Universally Designed schools and classrooms is a journey into which we have taken our first steps with a long way to go…
In classrooms of incredible diversity it may seem practical to create one-size-fits-all learning environments. Classrooms where children are expected to work in similar ways and towards similar outcomes. These types of classrooms, however, don't work well for the outliers in our society. They tend to become marginalized. Many of the outliers go on to do well in life but can tell stories about how school failed to meet their needs…

What is UDL?
The UDL movement began in architecture with legislation created to make it law that buildings were to be built according to accessibility standards. What was discovered was that when buildings are designed to be accessible for people with disabilities, many other people in the population benefit.
Curb cuts were designed for wheelchair accessibility but are also great for kids on their bikes, and parents pushing strollers.
Closed captioning was designed for the hearing impaired but it is now used more in sports bars, and by couples when one wants to sleep and the other wants to watch TV.
We installed freeware on our computers for our students with disabilities  such as:
Natural Reader which will read most documents including microsoft word, email, powerpoint.
Word Talk which is an add-in for Microsoft word which imbeds a text reader, a spell checker with options that will read for the user, and a thesaurus
CLiCk Speak which is an add-in for FireFox which will read the web.
Programs such as Word talk quickly became useful for other students as they proofread their work and for teachers proofreading their report cards.
We use Kurzweil with many of our students with reading disabilities. It's highlight and extract functions have also been helpful when used on the Smartboard to teach the entire class about finding the main idea and note-taking.
Write Online is a great online program from Crick Soft that provides word prediction and a word bank for students who need them. Most of it's other functions are a simplified version Microsoft Word. It is a great program for all kids with accessibility options built in.
Our Smartboards have increased the engagement level for all students in our classrooms. They have especially been good for students who benefit from visual information (isn't that most of everyone?).
To learn more about the theory and research behind UDL go to the CAST Website.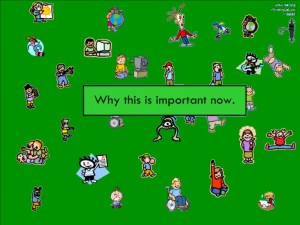 UDL is important now due to the ever-increasing diversity we face in our classrooms. In the past many children have 'slipped through the cracks' due to inflexible and inaccessible curriculum and classroom practices.
For many years schools have been questioning if we should be using digital technologies with our students. It is now no longer a question of 'if' but one of 'which' and 'how' digital technology should be used with our students. It is more important than ever that we have a clear pedagogy such as UDL in order to select appropriate technologies to meet the needs of all students. It is important that this pedagogy drives our use of technology rather than the technology driving what we do.
UDL is important now because it has:
Versatility ~ etext can easily be read out loud digitally, video can be paired with reading material
Transformability~ etext can be altered according to user needs or preference in terms of size, colour, and form such as braille.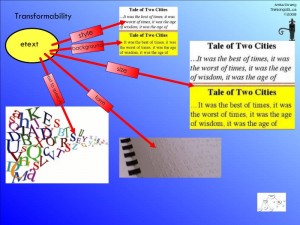 Ability to be Marked ~ etext can be marked by adding highlighting and annotations by the teacher or the student.
Networkability ~ etext can include hyperlinks to more information, background knowledge, definitions, or video clips to increase student engagement and understanding.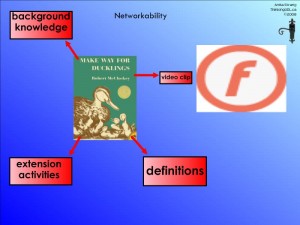 Subtle Shift in Paradigm, Large Impact on Learners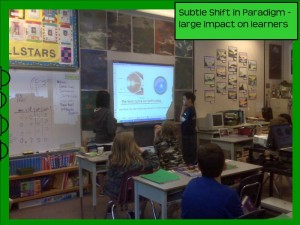 We have been thrilled with our increased ability to meet the needs of the learners within our classrooms. The acceptance has been echoed in the way the students treat and support each other.
In his presentation about UDL at the LATA conference in October of 2008, David Rose said:
"Increasingly we need to be seeing our curriculum as disabling children"
and
"Increasingly our curriculum will be seen as unethical"
It is in legislation that buildings must be accessible to people with physical disabilities. Legislation is beginning to make similar moves towards accessibility in education. Students with special needs are now physically able to access our classrooms. We need to ensure that when they get there the learning is also accessible.
To see David Rose's entire presentation go to SET BC's BC UDL project pages
To read Kate's entire story "I am different not disabled"  go to the Traverse City Record
To read Kate Olson's blog about this story and the excellent conversation that follows it go to: "Kate Says"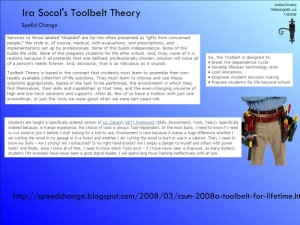 To read more about Ira Socol's Toolbelt Theory go to his blog: SpeEd Change. Educators should all be reading his entire blog. Also for a telling a look into life in the Special Education classroom read his book: The Drool Room. Warning – it is not for the faint of heart. I would argue, however, that the faint of heart should not be teachers…
This slide illustrates one of the basic differences between traditional planning and planning for a UDL classroom. In the first flow chart programming for students with special learning needs is added on – the lesson is retrofitted to meet the needs of diversity. in the second flow chart the needs of the students are considered during the planning phase through consultation between the classroom and resource teacher.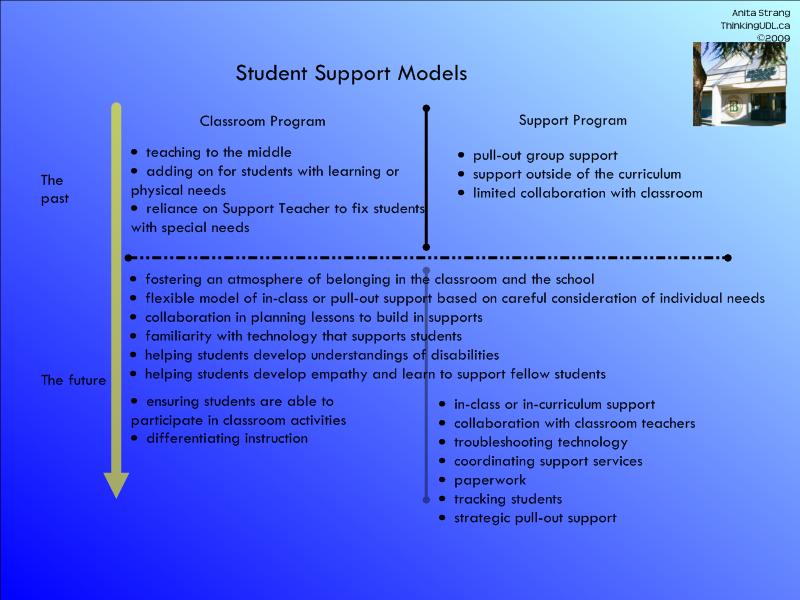 The division between the support program roles and the classroom teacher role blurs in a UDL classroom.
UDL is about 'intelligent inclusion' When possible activities are designed to meet the needs of all students within the classroom setting. When a student or a group of students' needs differ greatly from the needs of the group they may be pulled out to be provided with the special programming they need.
Technology makes differentiation easier teachers because we can enlarge it, turn it into etext, play video etc. etc. etc. UDL, however is not about technology. It is about designing accessible and meaningful  learning experiences for our students.
If we could always have our students working with real materials in real settings this would be superior to the use of technology. With the use of technology, however, we are able to provide learning activities that are much more similar to the real thing than we can if we teach from a textbook.
For more about this read my comments about the importance of hands-on learning experinces on by blog "Anita's Tips, Tricks, and Weblinks".
We have been working to create UDL classrooms at our school for two years now. We believe we are doing a good job with providing Multiple Means of Representation and Multiple Means of Engagement. This year our goal is to increase our ability to provide more opportunities for our students to have Multiple Means of Representation. It is a journey… we are moving along but there is a long path still ahead.
To read more about the great progress we saw our students make this year visit my blog post: UDL Success!!!
You can watch me talk about it on a video posted on the SET BC website: Anita Strang on Implementing UDL.
Resources:
Paul Hamilton's blog: Free Resources from the Net for (Special) Education
Paul Hamilton's Wiki: UDL4all