One year later we are back in China and I am again going to attempt to post about our experiences. It became difficult last year due to spotty internet connections so hopefully I will have more luck this year.
This time I have taken a year's leave of absence from my job and we are staying in China for a full year. I flew into Shanghai one week ago – Jim has been in China for the past couple of months – and then we took a high-speed train to the beautiful Hangzhou.
Jim is currently working at a newly opened rink in the "Grand Canal Place Mall". Below are pictures of it during the day and at night. At night it lights up – in this picture you can tell the size of the light display by looking at the worker in the bucket lift replacing bulbs…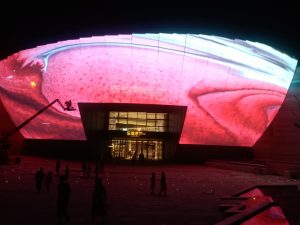 We have only begun to explore Hangzhou but it is quickly living up to it's reputation for being a beautiful city that is a destination for tourists. Especially exciting to me is that we are once again staying within walking distance of the Grand Canal. Last year we stayed in a hotel in Wuxi that overlooked the Grand Canal and we became fascinated with this UNESCO World Heritage Site. Today's post is a bit of a 'hello' and a test to find out how successful I will be with posting this year – fingers crossed. I am working on two posts that I will post soon if all goes well. One is about the Grand Canal which will include a post from last year in Wuxi that never got published. The other will be about an amazing trip we took last weekend to stay with a family living in a beautiful village about an hour outside of Hangzhou.